Navy awards research center $9M contract to create model
Try finding a spare part for your 48-year-old boat. It's not easy.
But it's a problem the U.S. Navy has faced. Its oldest active ship was deployed in 1970, and when a part breaks, it has to scramble.
Some spares haven't been produced in years.
But researchers at General Electric's Global Research Center are working on an alternate source, producing the parts with a 3-D printer and a process called additive manufacturing. It follows digital instructions to recreate the part layer by layer out of the same material.
The U.S. Office of Naval Research has awarded scientists a $9 million, four-year contract to find a faster way to create a digital model that would allow them to produce a duplicate part to replace one that failed.
While the initial focus is on producing so-called legacy parts for ships, aircraft and other critical military equipment, the technology could eventually find its way to consumer applications as well.
And it could allow designers to produce parts that are equal to or surpass traditionally manufactured products, shaving weight, increasing strength and durability, and allowing a product to be produced with far fewer parts.
But first, the aging Navy ships.
"The challenge is that many of these parts are 30, 40 or 50 years old," said Steven Duclos, chief scientist at GE Global Research. "The design and tooling no longer exist.
"This project is developing tools, processes and techniques to figure out what the geometry was."
Additive manufacturing, where the material is added a layer at a time, is different from such other fabrication processes as forging or casting, so the resulting part has to be equal to or surpass the properties of the part it will replace.
"We're developing the technologies to be able to do that," he said.
"The key challenge with industrial 3-D printing is being able to additively build a part that mirrors the exact material composition and properties of the original part that was formed through subtractive measures," said Ade Makinde, principal engineer, Additive Technologies at GE Global Research. "With the kind of mission-critical equipment the Navy operates, there is no room for deviations in material performance or manufacturing error."
The four-year research program will also include scientists and engineers from GE Aviation, GE Additive, Honeywell, Penn State, Lawrence Livermore National Laboratory, the Navy Nuclear Lab, and the National Center for Defense Manufacturing and Machining.
Researchers are also working to shorten the time it takes to "train" a 3-D printer to make a specific part.
Lawrence Livermore has developed methods that enable 3-D printers to produce defect-free parts the first time, instead of using a trial and error approach.
"Part certification has been the focus for us all along, and we think we've made considerable progress," said Wayne King, who heads Lawrence Livermore's Accelerated Certification of Additively Manufactured Metals project. "This partnership with GE is ideal because it connects us with a major U.S. vendor of metal additive manufacturing machines," he said in a release announcing the grant to GE.
While the Navy project focuses on producing spare ship parts, "the real power of additive (manufacturing) is releasing the imagination of people who design parts," Duclos said.
Designers could come up with parts that add efficiency to a product and lighten the product's weight, he said.
GE CEO John Flannery, speaking at Industry in 3-D, a daylong GE-hosted event in Manhattan, said additive manufacturing had reduced 855 parts in GE Aviation's new Catalyst Engine to 12.
Additive manufacturing enables geometric structures that are more complex than those produced through traditional manufacturing techniques.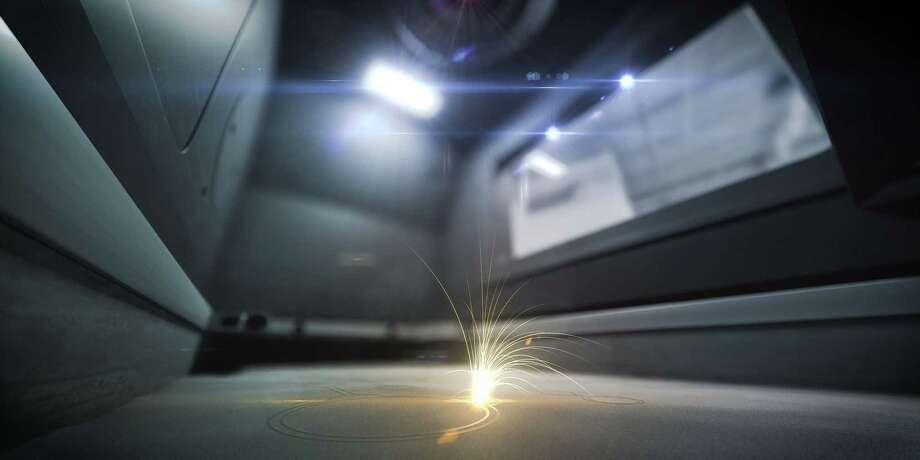 Another goal is to distribute the manufacturing of the parts, moving the 3-D printers onto the ship where "you ship a file rather than the part," Duclos said.
Producing a part only when it's needed would also reduce the costs of carrying an inventory of parts.
The technology is still new.
Flannery cited an A.T. Kearney study that found 3-D printing now produces less than 1 percent of manufactured parts globally. But the study also predicted rapid growth in the technology.
GE Additive, created in late 2016, already has a line of machines using lasers or electron beams to shape parts.