Summary
The commercial nuclear business is less than 1% of corporate revenues.
Worldwide competition exists that presents a challenging market for GE.
No new US projects are on the horizon.
Better uses of capital from a nuclear business sale exists.
Investment Thesis
There have been a few surprises since I wrote a Seeking Alpha article about the General Electric Company (GE) entitled "General Electric: A Long Slog to Recovery" in November. New issues include long-term care liabilities, WMC mortgage risk and SEC investigations. Recovery is still a potential but more business changes are needed.
The past six months have continued to punish the stock:

Source: Yahoo Finance
CEO John Flannery has announced, in numerous forums, that GE is in the process of disposing $20B+ of industrial organizations. Presently included in the disposition process are Industrial Solutions, Value-Based Care, Aviation platforms, Current & Lighting, Distributed Power, and Transportation. The disposition of these businesses is one key step toward the revitalization of GE.
While the nuclear business has not been discussed publically as a possible disposition, this article examines the benefit of including it in the disposal group as a positive recovery action.
The GE nuclear business is a joint venture with Hitachi (NYSE:HTHIF), and is branded as GE Hitachi Nuclear Energy – GEH. The enterprise is a $1 billion annual business and is part of the GE Power segment, a $36 billion business in 2017. GE's total revenue in 2017 was $122.1 billion as reported in the 10-K. Thus nuclear was less than 1% of the corporate revenues and margin must be shared with Hitachi.
The nuclear business is an asset that, if sold, provides capital to deploy elsewhere to benefit GE and shareholders.
Power Business Remains Weak
The Power business continues to be the big drag on GE profitability. New gas turbines and new steam turbines sales have been less than forecasted. The Alstom acquisition was too expensive. GE and the industry have a manufacturing overcapacity and an inventory of unsold product. GE announced layoffs of 12,000 and are closing facilities. The 'Industrial Solutions' business, which is in the Power segment, is being sold.
The one business within Power, which you hear little about is nuclear. It's a business that appears to be contributing little to GE's revenue and profitability and may be worth more if sold.
The November 2017 Analyst presentation included a breakdown of the Power segment organization and year earlier revenues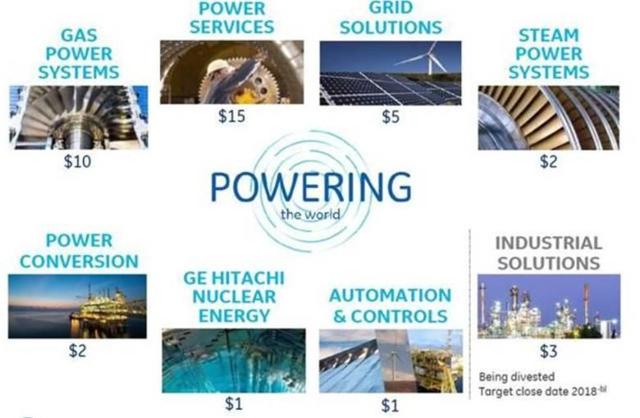 Source: November 13, 2017 Analyst Day Presentation
Power revenues in 1Q 2018 decreased from 1Q 2017 by 9%. Profit decreased by 38%. It is interesting that under "Other revenues" GE included Water & Process Technologies and GE Hitachi Nuclear. Water and Process Technologies was sold and closed in October 2017. Perhaps it is included because it was still a GE business in 1Q 2017. If that is the case, then GE Hitachi Nuclear must be the sole inclusion in 2018 at $.2 billion. Typically, the second quarter and fourth (spring and fall) are the peak nuclear outage service business periods. So 2Q may be stronger.
This is consistent with the 2017 GE Hitachi Nuclear revenue of $1 billion.
First Quarter 2018
GE Nuclear Business Growth Prospects
GE operates the nuclear business through a joint venture with Hitachi formed in June 2007 with the headquarters in Wilmington, NC.
The nuclear business, both in the US and throughout the world, has changed in the past 20–30 years. The days of building new plants that resulted in a large, profitable business for companies like GE no longer exist.
For GE the current nuclear business is based upon providing service, fuel and decommissioning activities. Limited new plant opportunities exist. An opportunity in Saudi Arabia is available but competitive and political (more below). So providing service and fuel to their installed base is the market for GE. In the 2017 10-K, under the 'Business Overview, Significant Trends & Developments' discussion regarding the Power segment, there were no highlights about the nuclear business. Apparently, this it is not a bright spot to highlight.
But GE nuclear growth is stymied by three major environmental factors:
The GE installed base of nuclear plants, based upon its technology, is only 17% of the worldwide facilities.
Major competition exists from Westinghouse in the US, Framatome, a French government controlled company and nuclear organizations in South Korea, China and Russia.
The low price of natural gas together with a long and more costly construction cycle results in no near term opportunities in the US for new plants.
An international opportunity exists in Saudi Arabia. As reported, Saudi Arabia is talking to nuclear organizations in the US, France, Korea, China and Russia for the first of 16 possible nuclear plants. It is unknown if GE Hitachi Nuclear has or will submit a bid.
GE has invested in new reactor designs, small modular reactors and more accident-resistant fuel assemblies. Some of this development has been funded by the Department of Energy and some via GE internal capital. The Department of Energy continues to provide funding for nuclear advancements but they will not result in near-term large scale, commercial returns.
GE predicts it would be in the mid 2020s before a small nuclear reactor is operational. There is no near-term benefit to shareholders.
Conclusion
GE is no longer as big of a player in the nuclear business as they once were.
If Westinghouse is successful coming out of bankruptcy, which appears they will be, and with their new owner, Brookfield Asset Management (NYSE:BAM) they will emerge as the US leader in nuclear. Further details about the nuclear business, BAM, and Westinghouse is in my Seeking Alpha article here.
So how much could they get for the business? According to the Westinghouse bankruptcy filings, Westinghouse had an EBITDA of 14% for services and 11% for fuel. Net income was consolidated at their parent, Toshiba (NYSE:TOSBF) thus data is not available to directly compare with GE but we can make an educated assessment. If we assume an 8% operating margin, which may also be on the high side, GE Hitachi Nuclear would return about $80 million. That's 2.8% of 2017 profit ($.08B/$2.8B). And Hitachi participates in revenues and profit (loss).
With a $1 billion business, depending upon the EBITDA, they may be able to get 2–3 times revenue or, $2-$3 billion (and this may also be high for this business). BAM is buying Westinghouse for $4.6 billion but Westinghouse is a larger nuclear business than GE's.
It is doubtful if nuclear will aid in the return of GE to greatness. Unless GE has a role in team US to provide new reactors to Saudi Arabia, it is unlikely that it will contribute much to a GE turnaround and hence is no longer a core business. If GE doesn't obtain a significant share of the Saudi market (initial orders to be decided in 2018) capital may be more beneficial elsewhere.
There are a number of better uses for $2-$3 billion of capital deployment such as pension contributions, long-term care liabilities, mortgage business (WMC) risk and liabilities, debt repayments, restructuring costs or R&D into growth business e.g. Aviation, Renewable Energy , Healthcare.
While GE may be on the road to recovery, the nuclear business disposal would be positive. Nuclear should be in the $20 billion asset sale CEO John Flannery has advertised to investors and employees.